Advantages of Hiring Professionals for Grease Trap Cleaning
If you own or operate a restaurant, the grease trap is a necessary component of your sewer system that prevents damage to the environment and the sewage infrastructure when cooking grease waste enters the drain. Grease wreaks havoc on drains, individual business sewers, and the larger sewer system as a whole because it cools and solidifies in the plumbing, creating an impassable blockage. Grease traps catch that problematic grease before it can enter the system, providing a simple and efficient solution to grease issues. They're relatively low-maintenance devices, as they only need to be cleaned periodically by a sewer cleaning company in Charleston, IL, to keep the drain running free and clear.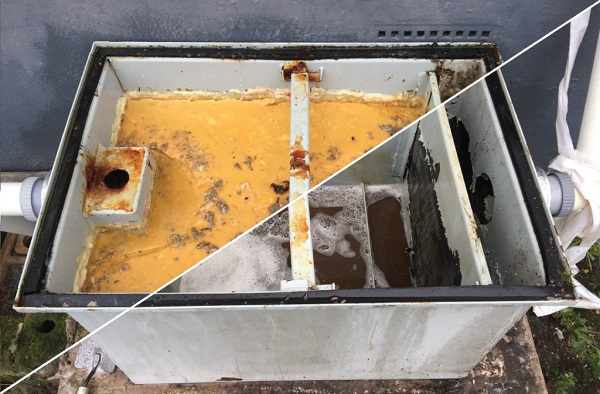 Cleaning a grease trap represents the dirtiest of work, and it's not for the faint-hearted or inexperienced. That's why it's best to hire a professional sewer cleaning service to tend to your grease trap so that you don't have to do it yourself. While you may think you can save money by going it alone where your grease trap is concerned, it's simply better to hire that work out to a pro. Keep reading to learn about the advantages of hiring professionals for grease trap cleaning.
A Routine Schedule
Very few people in the restaurant business have the time or inclination to add grease trap cleaning to the list of tasks that must be regularly performed by staff. That's a job that very few people want to undertake, and it diverts attention away from doing what the staff is there to do in the first place. Therefore, the task of cleaning the grease trap gets postponed, which puts you in jeopardy of falling victim to a clogged trap. When you hire the job out, the grease trap will be performed on a regular schedule, which means that your chances of a surprise blockage are exponentially reduced.
Safe Grease Disposal
If you attempt to clean your grease trap yourself, you may be stuck wondering what to do with that grease once you're done. While some municipalities may offer grease collection points, that's a headache that the average restauranteur doesn't need. However, when you hire a professional to clean the grease trap, the service will handle the grease disposal for you so you won't have to give it another thought.
Records and Documentation
Many local authorities require that businesses keep records of their grease trap cleaning schedule to satisfy regulatory guidelines. The grease trap is part of maintaining sanitary conditions in a business, so those records may be reviewed by local health department inspectors during their visits. When you hire a professional drain cleaning service to maintain your grease trap, you don't have to worry about the condition of the needed records. Every action will be documented, and those records will provide you with evidence of your compliance with local regulations.
Forecast Future Issues
Another benefit of hiring a professional grease trap cleaning service is that when they clean your trap, they'll also inspect it to head off any potential future problems that may be developing. They can look at your entire system to search for dented tanks, corroded walls, bad filters, and other issues that could bring your business to a grinding halt if they fail unexpectedly. That kind of forewarning can help you budget for the repairs before they occur, and schedule them for a time of your choosing rather than having to simply respond to an emergency when they fail.
There are many advantages to hiring a sewer cleaner in Charleston, IL, to maintain your grease trap. They'll handle the dirty work on your behalf, keep the necessary records, dispose of the grease, and forecast future problems before they occur. To learn more reasons why you should hire a professional to clean your grease trap, contact Geno's Sewer and Drain Cleaning at (217) 254-8077.
Schedule a Sewer Cleaning Service Today
The next time you are faced with clogged sewer lines and drains, you know who to call. At Geno's Sewer and Drain Cleaning, we are always prepared to take care of your septic and drain clearing needs. You can receive a same-day appointment when you reach out to us. Free estimates are also available for all of your septic work. Drop us a line or shoot us a message today!